How to choose the right rawhide chew
| | |
| --- | --- |
| All rawhide chews are not created equal. The first question commonly asked buy pet owners is about quality. Rawhide dog chews made in USA (or overseas in accordance with the highest USDA specifications) from premium beefhide under the strictest quality standards, such as American Rawhide, Merrick, Dingo, Bone Buddies, Beafeaters brands, | |
feature highest quality, they are thicker and lasting longer, and dogs really love them. American production processes and sanitation practices are much better and more highly regulated than most other countries producing rawhide bones.

Choose a bone that matches your dog's chewing rate and chewing habits. Consider size, shape, hardness, and flavor.

Size: Some dogs are very particular about the size of the chew bone you give them. Too big and they will not touch it, even though they will chew for hours on a smaller bone. Generally speaking, smaller dogs prefer smaller bones, but the reverse is not always true. Many bigger dogs ignore big bones, leading owners to believe, incorrectly, that bones do not interest them. Some dogs will not touch a rawhide bone that they find too big. The same rawhide in a smaller size is chewed immediately. Fortunately, rawhide chews come in every size and shape imaginable. It is important that the chew be large enough and thick enough that your dog cannot easily chew off and swallow either a large piece or the whole chew. A good rule of thumb is that the chew should be about two times the size of the dog's mouth.

Hardness and Texture: In addition to size, the consistency of the bone you give your dog is another factor to consider. Aggressive chewers can chew down a good size rawhide bone in a surprisingly short time. For these dogs, try giving pressed rawhide which is compressed, harder, and will last longer. If your dog chews for short periods of time with a soft bite, a smaller rawhide bone that is easy to soften will be more enjoyable. For these dogs, also try rawhide chips, sticks, or twists. These options satisfy the urge to chew, provide just as much entertainment, and taste just as good as any chew bone.

Flavor: The flavor is very important to some dogs. Try various types to see which ones your dog enjoys.

Remember, almost all dogs like to chew. Oftentimes, the trick is finding the right size, consistency, and flavor your pet wants. Try to find a few types your dog likes. When he loses interest in the one he is working on, switch to the other. This will keep your dog chewing, which is great for helping remove plaque and relieving boredom.

Rawhide that requires more than 7 days to chew should be replaced, due to dirt and bacteria buildup.

If your dog has gastrointestinal disease or is eating a therapeutic diet, you should seek a veterinarian's approval before feeding any chews.


Discounts, Specials,
Limited Offers
Compressed Bone, Made by Loving Pets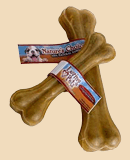 Save up to 50%!
These solid top-rated compressed bones are produced in 5 different sizes to be the right choice for any dog.
4'', 6'', 8'', 10'' and 12'' Length.


Regular price from: $0.99


Special Price from: $0.54

More specials

Bulk Rawhide Dog Bones,
Greenies Wholesale
Greenies Dog Treats Bulk

Greenies Dog Treats in Bulk.
27 oz. Box, 96 Greenies.
Sale Price: $28.99

More bulk dog treats

Holiday Rawhide Dog Chew
Be Good Company Holiday Rawhide Twists

35 festive red and green with white rawhide dog chews in the shape of twists are packed in a decorative box to make a great gift for dogs and dog lovers!


Price: $8.99 per 35 twists gift box

More Holiday dog treat gifts